News On The Block Unsung Heroes Award Winners
Posted 16 December 2020
---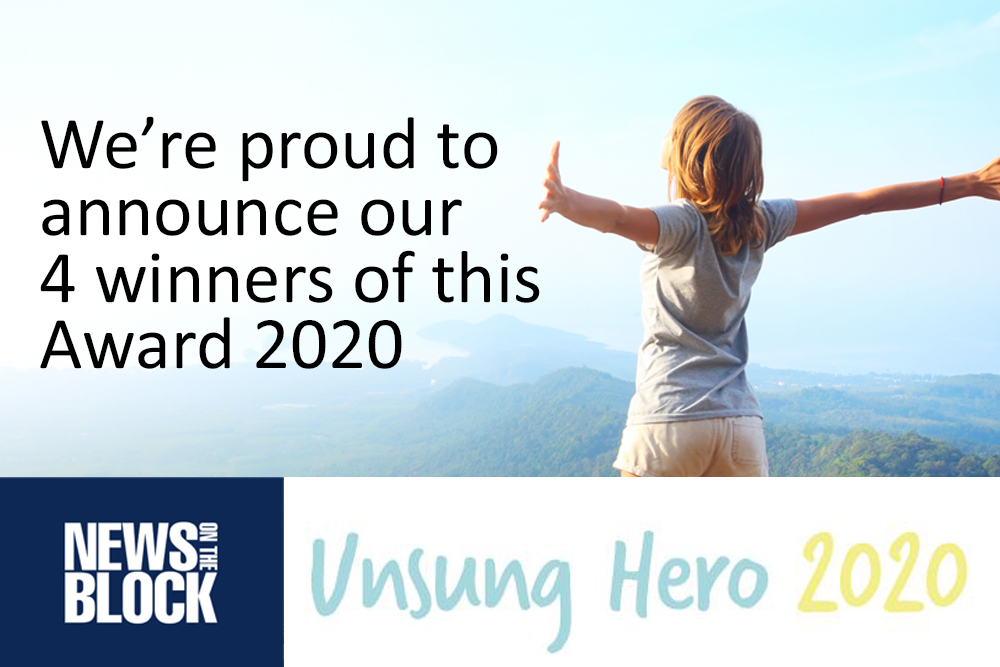 We are extremely proud to announce that 4 staff members have received an Unsung Heroes' Award.
The awards were run by News On The Block to recognise those who, in a year that has been especially challenging, have demonstrated kindness above their normal daily duties. All winners' stories have been published in a dedicated feature in their latest online magazine (edition 110).
As NOTB states in the feature: "This year everyone within property management deserves an Unsung Heroes' award! Needing to be on hand to help residents with increasing challenges, such as shielding or self-isolation, they stepped up to the mark."
Sponsors Jackson Sims Recruitment said: "Every day employees and companies have been making changes, working additional hours and going beyond their job descriptions to put OTHERS first. That's why we wanted to work with News On The Block to bring you the Unsung Heroes' Awards. To highlight all the support and positive work provided by Property Managers, Company Directors, Concierge, Contractors, Estate Managers, Key Workers and individuals all over the UK. It's these people we want to recognise and to thank. To support and encourage."
Within the group, we have some exceptional people who's kindness and drive to make things that bit better, makes a huge difference. Here we celebrate the 4 winners:
Michael Fallon
Sue Hammond
Chloe Andrews
Claire Tims
Here's why they were nominated…
Michael Fallon:
Our Facilities Manager Michael Fallon is a key staff member across the group, very respected and renowned for simply 'getting the job done' without fuss or nonsense. He very much goes under the radar in what he does – lots of little things that make a massive difference to all staff.
Fexco Property Services has multiple offices across the country, each with its own specific requirements, some with features such as narrow corridors or lifts to accommodate, and some more open plan and easier to manage. We are still working on the new office environment, it's definitely an ongoing task but we must continue to adapt to a constantly changing work environment, and we recognise that working as a team, it is an achievable challenge for those whose role it is to facilitate the process. Some have found the challenge rewarding, and for our Facilities Manager Michael,  playing a major part in getting those staff whose mental welfare relies on the more structured day going to a place of work provides – he most definitely rose to that challenge. Thanks Michael.
Sue Hammond:
Sue is one of our site staff who demonstrated true grit during lockdown. The Meads is a retirement non assisted living building managed by our Crabtree. The House Manager, Sue Hammond, left her home and moved into the development at the beginning of lockdown as she didn't want to put either her family or her residents at risk but still wanted to provide a service to the elderly residents as they were vulnerable. While there she arranged outdoor activities to provide exercise and fresh air, such as socially distanced yoga. Sue didn't stay the entirety of lockdown due to her husband's ill health but still continued to personally call all residents every day to check up on them. Sue's devotion to her work is wholeheartedly appreciated by the residents of The Meads.
Chloe Andrews & Claire Tims
Founders of the group's 'Coffee Club', an internal resource, confidentially helping all members of staff when they need a sympathetic and impartial ear. 
Unfortunately, the pressures of work and life mean we're not always able to achieve a permanent state of wellbeing. With workplace health and wellbeing more important in our daily lives, both in and out of work, more and more businesses now recognise the benefits of taking care of their most important asset – their staff. The Fexco Property Services H&S department is dedicated to keeping Wellbeing on the business agenda. The difficulty of identifying a 'well being' is that someone may look like they're coping really well yet, in reality, it couldn't be further from the truth. Troubles can spring from personal or workplace situations, within any team, department, or company – stress seems to be a given.
Chloe Andrews and Claire Tims founded the Coffee Club where anyone can arrange to have a completely impartial chat with either of them. Both Chloe and Claire have a deep understanding of what it's like to deal with the stresses and strains of daily life, living with mental health issues themselves gives them a greater understanding of what others are going through. Sometimes a chat is all that's needed to make the day better. Thanks to Chloe and Claire Coffee Club has been running for over 2 years now. Staff members can contact either of them in complete confidentiality and impartiality. They will arrange a private phone call or a coffee away from the office – whichever suits best. All conversations are held in strict confidence, not even line managers are informed! Chloe and Claire give up their time to provide this ever more vital support, it's definitely above and beyond their individual remits and on top of extremely busy work schedules, but no matter how their own day is going – if someone needs them to listen they will make time.
Both Claire Tims, Health & Safety Co-ordinator and Chloe Andrews, Project Analyst have extremely demanding roles, so the fact that they are willing to give even more is extraordinary. Not only are they able to provide support and understanding, but they always seem to have a smile (and pre-Covid times a hug), which lifts staff spirits daily. They are also key members of the Working From Home Committee, which was set up to be a sounding board for all staff, and to provide feedback to Senior Management.
Head of H&S Jonathan Gough commented: "When I consider what each individual has to deal with daily outside of work, it makes me proud that I have colleagues that still make time for others and possess a desire to help everyone."
---